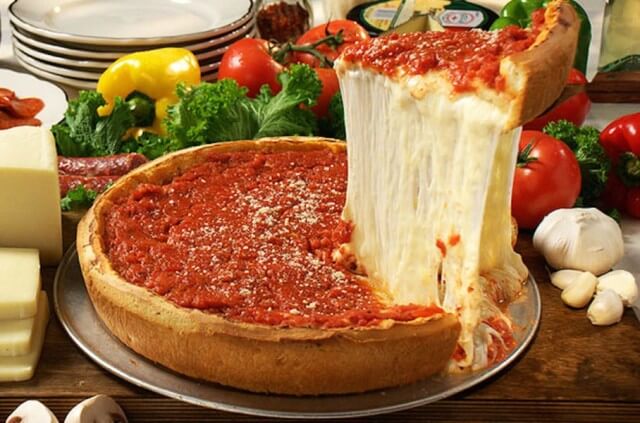 American Hot Pizza:  Beautiful, Thick, Lush. Why is it Called "Chicago"?
The fact is that in Chicago the pizza in a frying pan with high sides looks more like a home-made cake became popular.
Everyone loves pizza, but the best we can do after work is to put the semi-finished product from the supermarket in the oven. Jamie is an active campaigner for healthy food – and he says a decisive "no!" to the junk food and he encourages you to cook delicious flavorful pizza at home. Only in this case pizza will be turned 100% natural and even exclusive.
Recipe of the Pizza-Pie "Chicago"
Dough:
650 ml of water;
7 grams of dry yeast;
1 tbsp of sugar (ideally cane);
a pinch of salt (preferably sea large salt);
1 kg of flour.
The tomato sauce:
2 cloves garlic;
a pinch of dried oregano;
400g of canned tomatoes in own juice;
salt and pepper – to taste.
The filling:
3 red onions;
4 pork sausages in natural casing;
1 tsp of smoked paprika;
1 tsp of fennel seeds;
300 grams of cheese that melts well (Jamie uses cheddar);
2 pickled chili peppers;
200 g of any boiled meat;
olive oil;
bread crumbs.
4 forms with high sides (diameter no larger than 25cm)
How to cook pizza-pie "Chicago" by Jamie Oliver
For preparing the dough you should mix warm water, yeast, sugar and salt in a large bowl.
In a food processor pour the flour and the water with the yeast, then mix thoroughly.
Sprinkle with some flour the work surface and lay out the dough then knead it properly, so that it becomes elastic and does not stick to hands.
Place the floured dough in a bowl and cover it with a towel. Leave it to rise for 2 hours, the dough should increase in size twice.
For the tomato sauce, put all ingredients in a blender, whisk until smooth mass.
Forms should be greased with olive oil and lightly sprinkled with bread crumbs.
The ready dough is divided into 4 parts, and then you should make balls from each tortilla. Jamie advises not to roll out the dough and gently stretch it to the size of the form. The dough should be put into molds and left for another 15-20 minutes.
Lubricate the pizza with tomato sauce. Put the sliced sausages on top (one sausage per pizza), some pieces of meat, the thinly sliced pickled chili and the crushed with arms cheese, and finally the chopped into thin rings onions. Complete composition with spices: grind the fennel seeds in a mortar with smoked paprika and sprinkle with the pizza.
Place the the pizza in the oven, preheated to 190°C or 375°F , for 20 minutes.