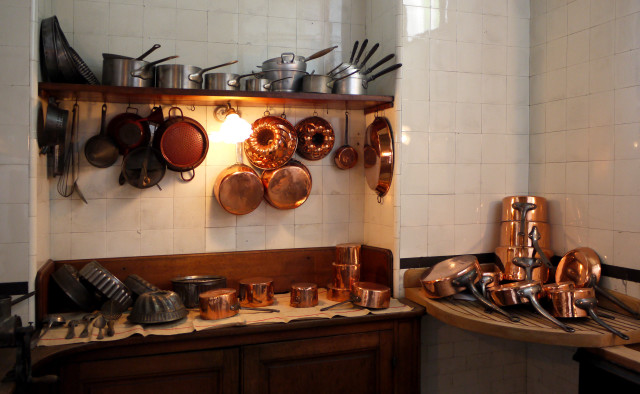 Winter Cookie Stamps, Santa's Suits for settings, titbit multilevel plate…We have chosen top 10 December handy small things for your kitchen!
Editors' opinion. There is nothing like a little help in life, especially in the kitchen. Of course, you can peel potatoes with a small knife, but it's more comfortable to do it using a special vegetable peeler tool. It makes no difference which plate you use for soup, but if it has a beautiful design, your soup is tastier.
Thus, we encourage you to check out some of these great gadgets. There is no need to buy the whole assortment of new tools, just look closely at these products and maybe you will find exactly what you need to simplify your daily life.
Ice Bucket
Champagne is the main attribute of a New Year's party. And if you know how to open a champagne bottle, then keep in mind that this drink should be cool. Of course, you can let it cool on a balcony or in a refrigerator. However, it's quite simple to cool it in a special Ice bucket, such as Presidio Silver Plated Ice Bucket. It is made of silvered yellow metal and decorated with strips and handhold loops.
Price: $118 USD
House Cake Pan
Traditionally, a house cake is made of cake pastry. In fact, the process of this house "building" is rather difficult, but you can use some tricks to make it easier. You will need a Gingerbread House Cake Pan. Thanks to non – stick coating you will get a perfect house and all you need is to decorate it.
Price: $43 USD
Smart Cooking Coating
Inductive cooking coating is the main hero at the kitchen: it's useful and safe while heating as far as new style Free Space from Hansa has a "Bridge" option. The inductive coating from Hansa has an autofocus to define a size of your plate and indicate the required heating function, which keeps the dish warm and saves electricity. In addition the automatic option doesn't let the dish boil over.
Price: $632 USD
Holiday Piecrust Cutters
Holiday Piecrust Cutters consist of a spring cutter built in each mould. It cooks a professional decoration on a pie top or a wholesome Holiday biscuit.   There are also four additional moulds: deer, New Year's tree and Santa Claus in a slede. It's enough to click on the cutter to get a fretted sledge and decorated Christmas tree with snowflakes.
Price: $22 USD
Titbit Multilevel Plate
In spite of Christmas fasting, we used to cook a lot at this night! To avoid a smother of plates with different desserts we offer you T'was The Night Before Christmas Tiered Stand.
This device is made of glazed porcelain and designed thanks to "The Night Before Christmas", a popular verse, written by Clement Clarke Moore.
Price: $83 USD
Gold Multicooker
Gold Multicooker Philips HD3067 can fry, stew, boil, bake and cook yogurt with milk porridge. Thanks to its special regime, any breakfast won't be over cooked or burnt. This device is very handy and it changes its temperature options depending on cereals you use. The Multicooker has a handhold, non – stick coating and can be easily washed in a dish washer.
Price: $271 USD
Williams-Sonoma Stainless-Steel Ultimate Roaster
It is made of ultrastrong stainless steel. Its high walls protect from oil and far splashing and vertical handholds make it easy to extract the braizier from the oven. It is perfect for meat and poultry baking, lasagna and stuffed turkey cooking.
Price: $118 USD
Jamie Oliver Dishes
Anyone can cook, especially with modern techniques and culinary devices. As a result of Tefal, a French brand and Jamie Oliver, legendary British chef's cooperation the world saw 3 series of Tefal Jamie Oliver dishes, made of stainless steel with a décor from cast aluminium. These series use an exclusive Tefal Thermo-spot technology, which prevents overheating and keeps a natural product taste. High-class non-stick coating uses less oil to get a healthy dish as a result. Moreover, such solid coating composition usually serves for a long period. Besides, Jamie's reputation destroys any doubts about this handy tool.
Price: $48 USD
Winter Stamps
If you don't like to spend your time looking for cutting molds you need Holiday Cooking Stamps to get a lot of nice biscuits. A small design gives some charming effects to this baking tool.
Price: $30 USD
Santa's Suits for Settings
Santa Suit Christmas Silverware Holder Pockets is a new handing setting tool to make your life easier. These suits will be perfect at a Christmas party to help give everyone the magic atmosphere of this night.
Price: $8 USD